THE NITTY GRITTY
You're about to learn more.
Motor Development International
With the vision to make ecology assessable to all Motor Development International (MDI) has developed a disruptive clean high technology of engines running on compressed air, which caters for a wide variety of applications operable to Sustain Mobility and Energy Storage Solutions.
The giant TATA brought a license of our technology for India, and Veolia an exclusivity for France for a garbage collector.
We have designed compressed-air products such as our urban quadricycle AirPod 2.0: 2 real seats. 100 km range presented today.
We are inviting licensing deals for production and distribution of our products, partnerships for developing and marketing other applications.
Website: https://www.mdi.lu/
Compressed air engine
Innovative technology for multiple applications.
The MDI technology is able to power any kind of transport. And also to produce energy outside of the usual power networks.
This concept enables the storing of energy resources with compressed air.
When utilising the compressed air, the expansion of the air restores the energy and produces fresh air & distilled water.
Engine Technology
The MDI high-tech engines using only compressed air are totally clean.
Global energy challenges dictate the choice of new production paradigms and energy storage means.
To accumulate and store energy from a primary source and then use it with a very high conversion efficiency is the challenge that the MDI concept of compressed air engines meets and achieves.
The MDI reversible high-tech engines compress ambient air in approved tanks of various capacities at a pressure of 248 bars.
The expansion of this stored energy in the form of movement allows you to replace all heat engines and cover any type of application: to move vehicles or to store and re-use electric energy.
Single Energy Diagram
The engine operates exclusively with the compressed air available in the tank. This mode is suitable for urban cycle, requiring reasonable power and autonomy
Dual Energy Diagram
The heating of the compressed air allows to multiply by three times the autonomy of the vehicle. This mode of operation is achieved by the addition of a burner fuelled by fossil or renewable energy.
Light and Tough
MDI has chosen to build light vehicles (at least half the weight of those with identical capacity) out of "composite" materials, until now the preserve of very high end vehicles produced on a small scale. It is a process of assembling several components, possessing exceptional bonding strength.
The chassis is formed out of one single piece and designed in order that every part of its shape serves a purpose. The result of this integration of functions is a considerably lighter structure, the use of fewer materials, a surprising gain of space, a much tougher structure than in that of a traditional assembly and incomparable sound insulation.
These characteristics can be refined further still through the use of plant fibres such as linen flax.
Characteristics of the material
Fiberglass or vegetable (linean type): 3mm
Polyurethane foam: 20mm
Fiberglass: 3mm
The world's best battery. The Air is everywhere.
Air does not hold intrinsic energy, but when compressed it's like stretching a spring:
That can then be - relaxed on demand.
One of the strengths of this principle lies in the fact that once this energy is stored it does not deteriorate and remains available.
This is not the case of an electric battery, which loses its power of load over time, as well as its ability to recharge.
The tank itself has an estimated life span of 20,000 cycles theoretical. Which is equivalent to saying that it will have a longevity of 50 years. Its recycling poses no chemical or physical problem.
The MDI generators are being designed to produce from a few kilowatts to megawatts. This potential offers the opportunity for energy storage in large caves or other dedicated storage.
Thus during the peaks of electricity consumption the MDI ecological concept of using stored energy will allow a flexible response adapted to the demand - without pollution, without the problems of conventional systems or production.
At the domestic level - The MDI reversible high-tech engines compress ambient air in approved tanks of various capacities at a pressure of 248 bars.
Customers will be able to fill their vehicle's air tank using a high compressed air station in 2 minutes. Or charge them at home from a simple electrical outlet 10, 16 or 32 amps in 10 to 11 hours, 7 hours or 3hours 30 min (respectively) or in town on the networks of electric charging stations.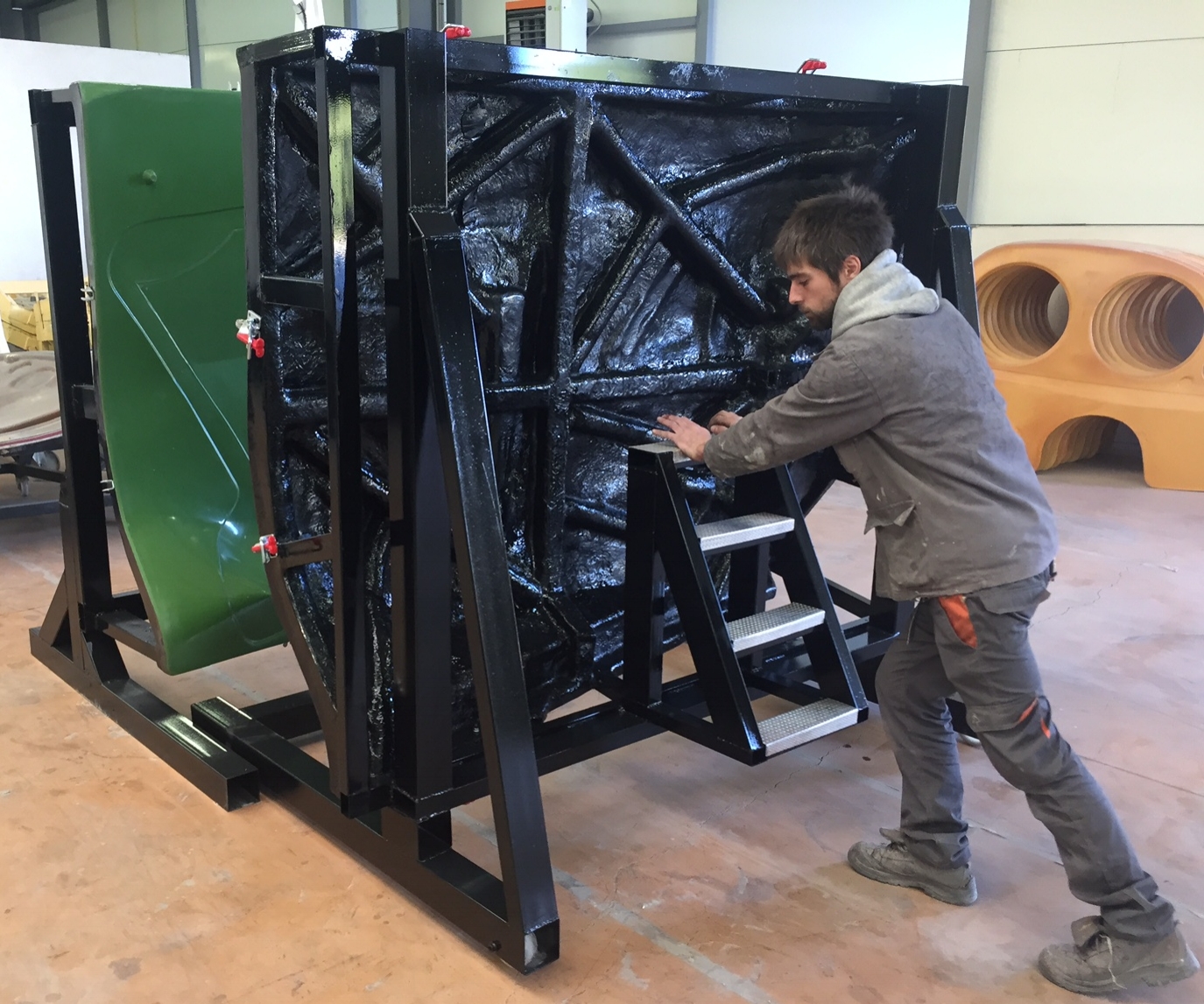 COMPRESSED AIR TECHNOLOGY is one of the best possible solutions because its carbon footprint is optimal, its reservoir is chemically inert and its very reasonable cost makes it possible to optimise energy production resulting from sustainable development.
MDI is not a producer of vehicles but sells its know-how, its licenses, as well as machine tools, configuring a "Turnkey" offer for investors.
The MDI production method, as well as a reasoned weight of materials, contribute to producing an economically attractive and widely affordable vehicle.
This economic benefit, as well as the engines low energy consumption, constitute major assets for MDI clean vehicles.
The production processes of MDI constitute an economic break, because of the decentralisation of the assembly units, and localised production with up to 80% of the vehicle being made on site.
In parallel the industry is advancing deeper into renewable energy and electric vehicles, and thereby continually aware of the shortcomings of current storage and electric vehicles.
There will be much competition among suppliers, but, at least in the short to medium term, much less competition among technologies. The dominant energy storage technology is chemical batteries, and these have big shortcomings ranging from cost to inconvenient charge depletion (e.g. on a trip) to unclean manufacture and disposal. Another technology factor is traditional heavy and costly car manufacture. Today MDI products are advantageously differentiated and very competitive in both those areas. Whilst there will be developments for all technologies, plus new ones, we see the opportunities for compressed air continuing and increasing.